Crayola Bluey Color And Sticker Activity Set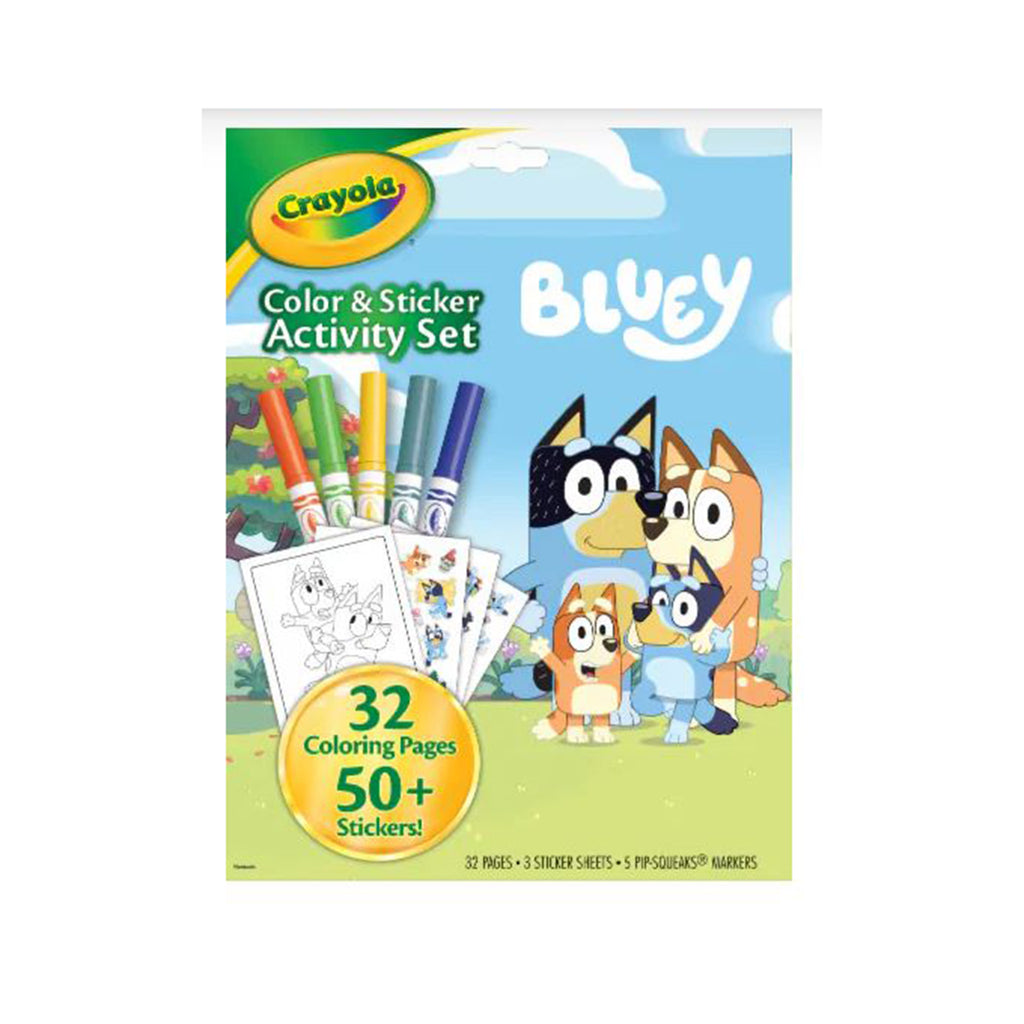 Immerse your child in the playful world of Bluey with the Crayola Bluey Color and Sticker Activity Set. This engaging activity set combines coloring and sticker fun featuring the beloved Bluey characters. With a variety of coloring pages and vibrant stickers, this set offers endless hours of creative entertainment. Let your little ones join Bluey, Bingo, and their family as they color and decorate scenes from their favorite show. The Crayola Bluey Color and Sticker Activity Set is the perfect choice for Bluey fans who love to express their creativity and imagination.
Features:
Bluey Theme: The activity set is adorned with adorable Bluey characters, capturing the joyful spirit of the popular animated series.
Coloring Pages: The set includes a variety of Bluey-themed coloring pages, allowing children to bring their favorite characters to life with their own color choices.
Stickers: Kids can enhance their artwork and create unique scenes by using the vibrant stickers featuring Bluey, Bingo, and other beloved characters.
Washable Markers: The set includes Crayola washable markers, making cleanup easy and allowing children to explore their creativity freely without worry.
Portable and Travel-Friendly: The compact size of the activity set makes it convenient to take on-the-go, ensuring entertainment during car rides, vacations, or visits to friends and family.
Ideal Gift: Perfect for birthdays, holidays, or any special occasion, this activity set will delight any Bluey enthusiast.
Safe and Non-Toxic: Crafted with child-friendly materials, the set is safe for young artists to enjoy.
Package Contents:
Bluey-themed coloring pages
Vibrant Bluey stickers
Crayola washable markers
Note: Suitable for ages 3 and up.
Inspire imaginative play and artistic expression with the Crayola Bluey Color and Sticker Activity Set. Let your child's creativity shine as they immerse themselves in the world of Bluey and her family. Get this activity set today and watch as your little ones create their own joyful adventures with their favorite Bluey characters.