Crayola Colored Pencils 8 Count Set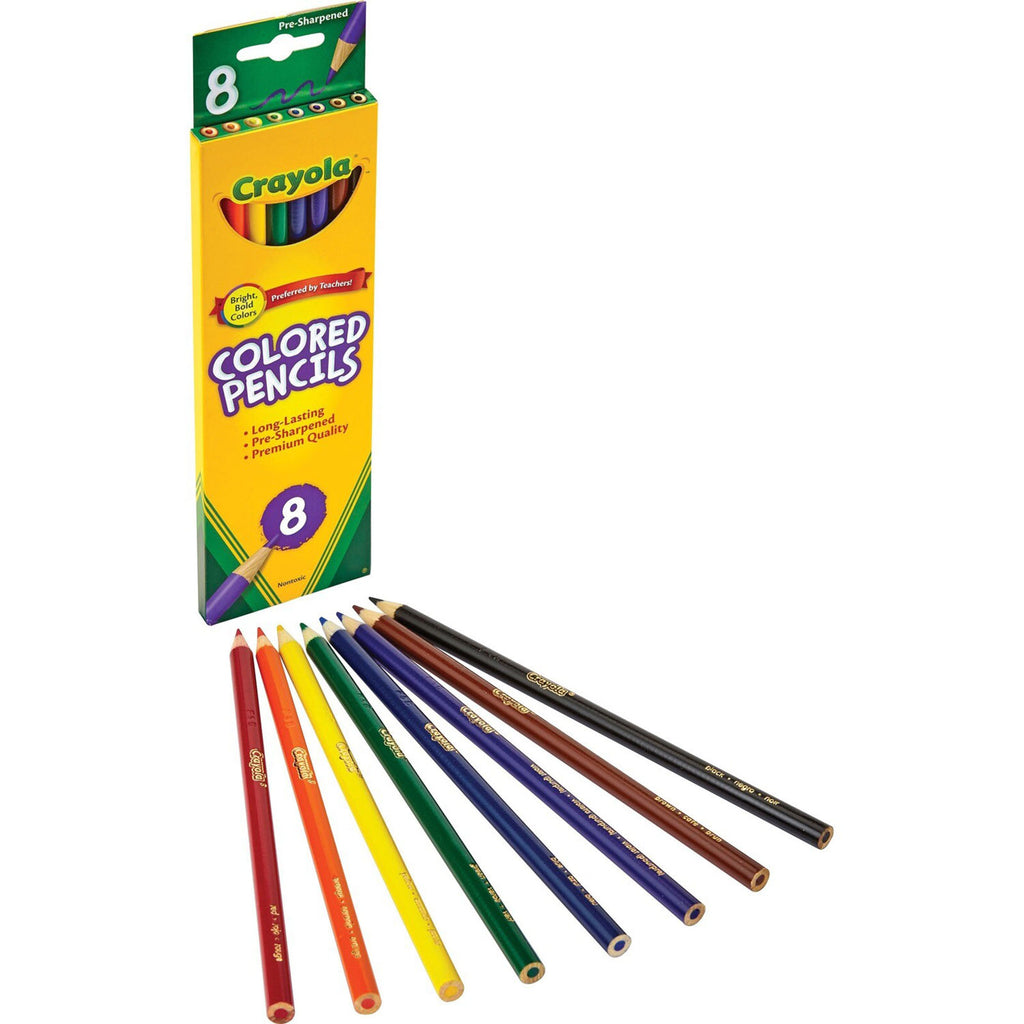 Introducing the Crayola Colored Pencils 8 Count Set, the perfect companion for unleashing your creativity and adding a vibrant touch to your artwork! This set combines quality, versatility, and an array of beautiful colors to bring your imagination to life.
With a convenient selection of eight brilliant hues, these colored pencils offer a diverse palette to inspire your artistic endeavors. Each pencil is carefully crafted using premium materials to deliver smooth, rich color application, allowing you to effortlessly blend, shade, and layer for stunning effects. Whether you're sketching, coloring, or creating intricate details, these pencils provide exceptional control and precision.
The Crayola Colored Pencils 8 Count Set is designed to unleash your artistic potential and ignite your imagination. These pencils are perfect for a wide range of projects, including coloring books, school assignments, adult coloring, and DIY crafts. You can explore various techniques such as cross-hatching, stippling, and blending to create unique and captivating masterpieces.
Not only are these colored pencils a joy to use, but they are also built to last. Each pencil features a strong, durable lead that resists breakage, ensuring that you can enjoy your artistic journey without interruption. The pencils are also pre-sharpened, saving you time and allowing you to dive into your creations right away.
As with all Crayola products, safety and quality are of utmost importance. The Crayola Colored Pencils 8 Count Set is made with non-toxic materials, making it safe for artists of all ages. The pencils are also easy to sharpen and erase, enabling you to correct mistakes or make changes to your artwork effortlessly.
Unleash your creativity with the Crayola Colored Pencils 8 Count Set and experience the joy of expressing yourself through vivid, beautiful colors. Whether you're a seasoned artist or just starting your artistic journey, these pencils are an essential tool for bringing your imagination to life. Let your creativity soar and discover endless possibilities with this vibrant set of Crayola Colored Pencils!
All Crayola Art Materials are Non-Toxic
Recommended Age: 3+
Condition: Brand New