Crayola Crayons 48 Count Set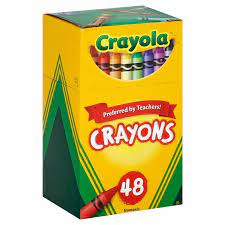 Introducing the Crayola Crayons 48 Count Set, the ultimate artistic tool to ignite your imagination and bring your colorful creations to life! This set is a treasure trove of vibrant hues, offering a wide spectrum of colors to inspire artists of all ages.
With 48 brilliant crayons at your fingertips, you'll have an endless palette to explore and create breathtaking artwork. Each crayon is carefully crafted with high-quality pigments that deliver smooth, even strokes on various surfaces. Whether you're coloring, drawing, or doodling, these crayons offer exceptional color coverage and blendability for stunning effects.
The Crayola Crayons 48 Count Set is designed to spark creativity and encourage self-expression. With a diverse range of colors, you can unleash your imagination and bring your ideas to life with confidence. Whether you're recreating the world around you or inventing fantastical landscapes, these crayons provide endless possibilities to let your creativity soar.
These crayons are not only vibrant and versatile but also durable. The sturdy construction ensures that they can withstand vigorous use, making them perfect for classrooms, art projects, and everyday coloring adventures. Each crayon features a classic design, making it comfortable to hold and allowing for precise control and fine detailing.
Safety and quality are paramount in Crayola products. The Crayola Crayons 48 Count Set is made with non-toxic materials, ensuring a safe and worry-free coloring experience for artists of all ages. The crayons are also designed to be easily washable from most surfaces and fabrics, making cleanup a breeze.
Whether you're a budding artist or an experienced creative, the Crayola Crayons 48 Count Set is a must-have addition to your artistic arsenal. Unleash your imagination, explore the world of color, and bring your imagination to life with the iconic Crayola Crayons. Create vibrant masterpieces, express yourself, and let your inner artist shine with this amazing set of 48 colorful crayons! 
All Crayola Art Materials are Non-Toxic
Recommended Age: 3+
Condition: Brand New