Eugy Tyranno 3D Puzzle Set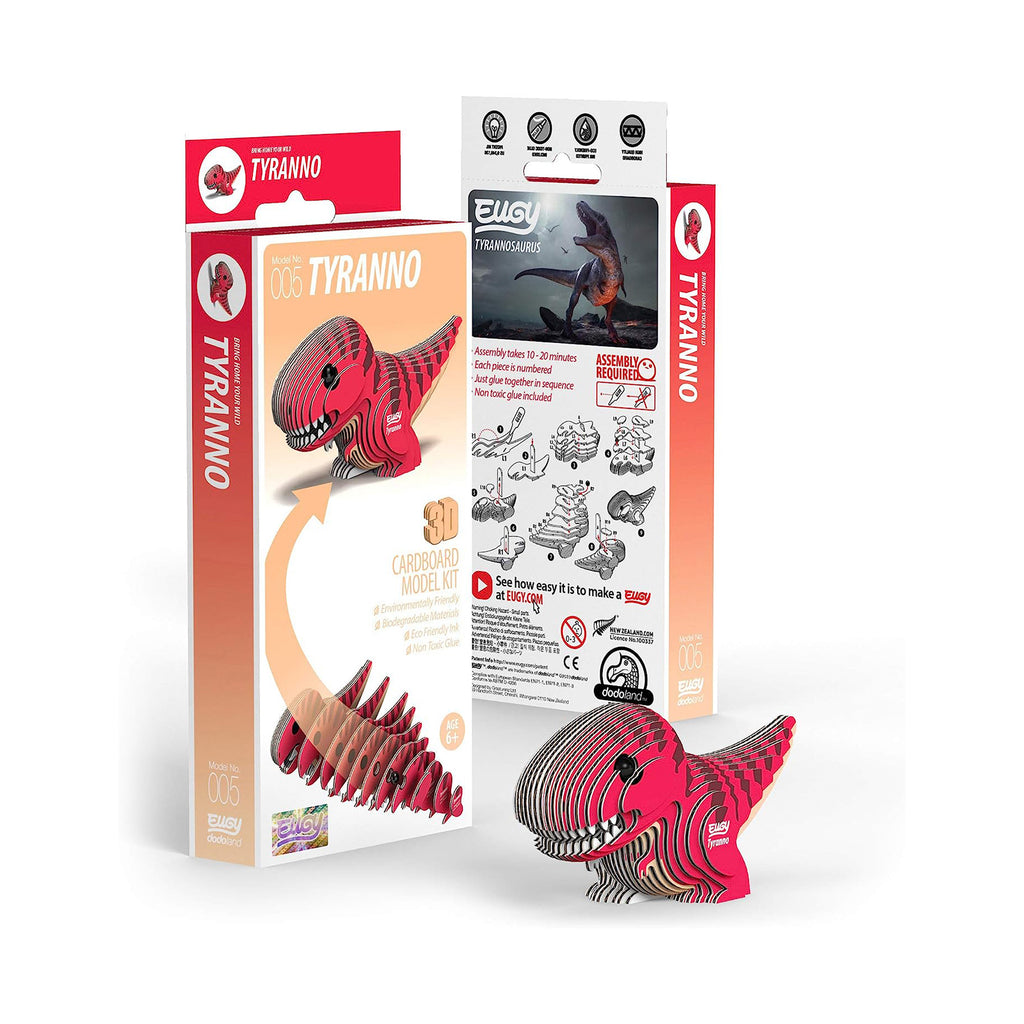 Introducing EUGY, the extraordinary 3D puzzle that brings joy, creativity, and sustainability together. With EUGY, you can easily build your very own captivating creature in just 20 minutes. It's a delightful experience for everyone, regardless of age or expertise!
Features:
Unparalleled 3D Puzzle: Witness the magic unfold as you assemble each EUGY creature and see them come to life before your eyes.
Easy to Build: With simple instructions and perfectly crafted pieces, constructing your EUGY is a breeze, making it suitable for puzzle enthusiasts of all skill levels.
Unique Creature Collection: Explore a wide range of fascinating creatures, each with its own distinct personality and charm. Collect them all and create your own menagerie!
Sustainable Materials: EUGYs are made from biodegradable cardboard, ensuring they leave a minimal ecological footprint. Show your love for the environment while enjoying hours of fun.
Non-Toxic and Eco-Friendly: Crafted with non-toxic, eco-friendly ink and provided with non-toxic glue, EUGYs are safe for children and promote a healthy play environment.
Specifications:
Material: Biodegradable cardboard
Ink: Non-toxic and eco-friendly
Construction Time: Approximately 20 minutes
Suitable for: All ages
Package Includes:
Precut cardboard pieces
Non-toxic glue
Assembly instructions
How to Build Your EUGY:
Carefully punch out the pre-cut cardboard pieces from the sheets.
Follow the simple step-by-step instructions provided.
Use the non-toxic glue to assemble the pieces together.
Watch in awe as your EUGY creature takes shape and reveals its unique personality.
Why Choose EUGY:
Stimulates Creativity: Building EUGYs encourages imagination, problem-solving skills, and fine motor development.
Educational and Fun: Learn about different animal species while engaging in a captivating hands-on activity.
Ideal Gift: EUGY makes a perfect gift for puzzle enthusiasts, animal lovers, and eco-conscious individuals.
Environmentally Responsible: By choosing EUGY, you contribute to a sustainable future and teach the importance of eco-friendly choices.
Embark on a rewarding journey of creativity, education, and eco-consciousness with EUGY! Get yours today and discover the joy of bringing unique creatures to life.
Note: Please ensure young children are supervised while assembling EUGYs.