Schleich Bayala Fairy Sera With Blossom Unicorn Set 70565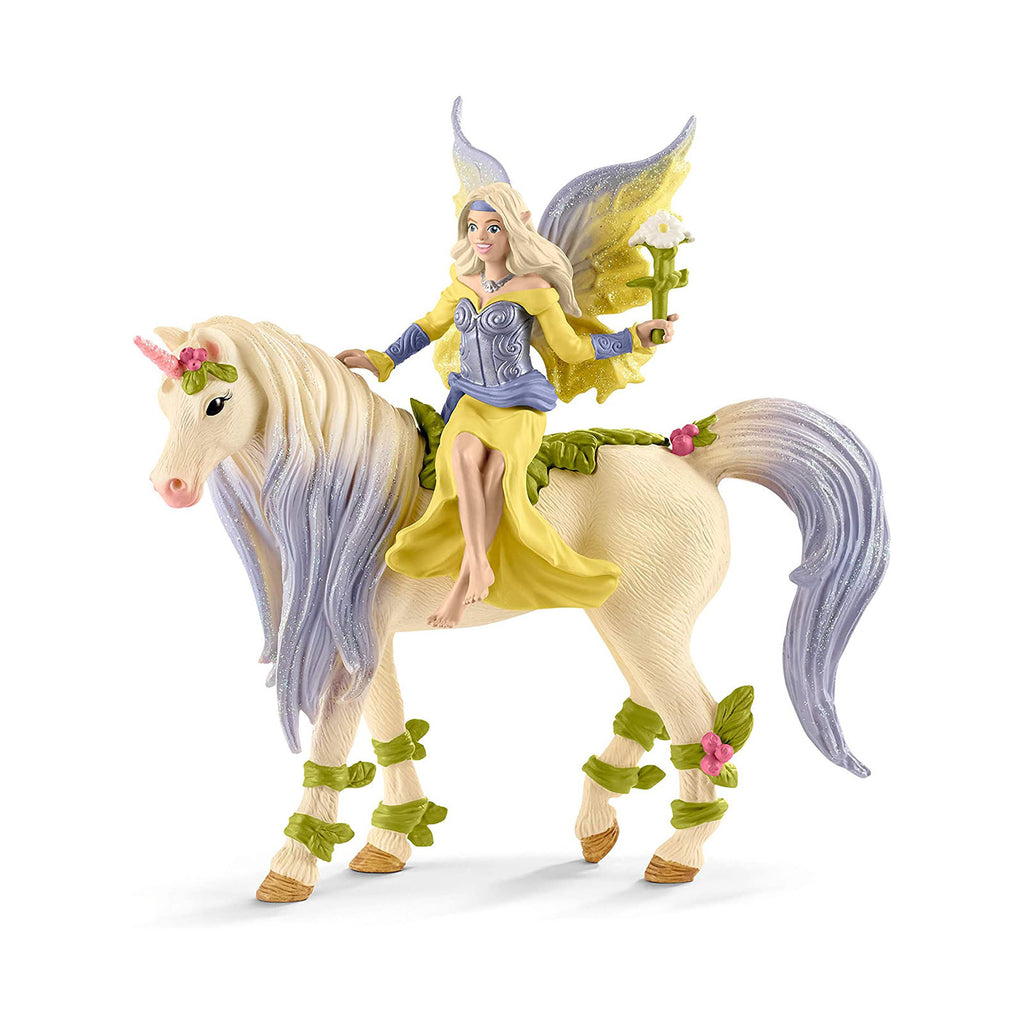 Step into the enchanting world of Schleich Bayala with the Fairy Sera With Blossom Unicorn Set 70565. This captivating set brings together the beautiful Fairy Sera and her loyal companion, the Blossom Unicorn. Immerse yourself in a realm of fantasy and adventure as you embark on magical journeys and create your own imaginative tales.
Features:
Fairy Sera Figurine: The set includes a meticulously detailed Fairy Sera figurine. Standing approximately 3 inches tall, Fairy Sera captivates with her delicate wings, graceful pose, and charming attire. With her vibrant colors and intricate design, she embodies the essence of a magical fairy.

Blossom Unicorn Figurine: Accompanying Fairy Sera is the majestic Blossom Unicorn. This stunning creature stands approximately 5 inches tall and features a beautiful floral motif on its coat. With its flowing mane, glittering horn, and lifelike details, the Blossom Unicorn adds an element of wonder and mystique to the set.

Imaginative Play: The Fairy Sera With Blossom Unicorn Set encourages imaginative play, allowing children to create their own stories and adventures in the fantastical world of Bayala. Whether it's a quest to save the enchanted forest or a journey to restore harmony, the possibilities are endless.

High-Quality Craftsmanship: Schleich is renowned for its exceptional craftsmanship, and this set is no exception. The figurines are intricately hand-painted with great attention to detail, ensuring that each piece is unique and of the highest quality.

Expandable Bayala Collection: The Fairy Sera With Blossom Unicorn Set is part of the Schleich Bayala collection, which includes a wide range of magical creatures, fairies, and accessories. Expand your collection and bring even more enchantment to your playtime adventures.

Educational Value: Along with imaginative play, this set offers educational value by promoting creativity, storytelling, and fine motor skills development. It also sparks an interest in the magical realms of fantasy, nurturing a love for imaginative play and storytelling.
Specifications:
Fairy Sera Figure Height: Approximately 3 inches (7.5 cm)
Blossom Unicorn Figure Height: Approximately 5 inches (12.7 cm)
Package Dimensions: 5.91 x 3.23 x 7.09 inches (15 x 8.2 x 18 cm)
Materials: Durable, non-toxic PVC plastic
Officially licensed Schleich product
Embark on a magical journey with the Schleich Bayala Fairy Sera With Blossom Unicorn Set 70565. Let your imagination soar as you join Fairy Sera and the Blossom Unicorn in their quest for adventure and wonder. Whether as a collector's item or a gift for a young fairy enthusiast, this set is sure to captivate and inspire. Enter the world of Bayala and order your set today!